It's already the middle of September--where IS this month going?? Fall is in full swing here on the farm and it's starting to be GORGEOUS with all the leaves changing colors! I'm very fortunate to live in the country where we are surround by disciduous trees so the colors are spectacular during the harvest season.
We have a new challenge over on the
Paper Sundaes Blog
--and this one might truly BE a challenge for you...It almost was for me! Our challenge #87 this week is to
use FELT
!
Our sponsor for the challenge is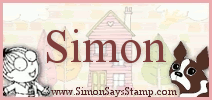 I'm not really a "felty" kind of person, but I have random things in my stash just for challenges like this. But THIS time I KNEW what I wanted to use...I had this fabulous felt trim that was screaming "USE ME!" So I did!
This darling little gal is "Pondering Magnolia"...she's one of my three--count them--THREE--Magnolias that I now own (a brand that SSS carries a LARGE line of)!. I just love her! That trim is made of felt. It doesn't have the bling--I added that for a sparkly touch. Would you believe that the trim was an exact match to the SU color Taken with Teal? Naturally it's retired and I don't have a single sheet left of it! I dug and dug and DUG thru my scraps and fortunately found just one piece left--just the right size for this card!
I didn't have the right shade of Copics for coloring her dress to match, so I mixed 3 of them (Base of B02 with BG13 and BG15) and was happy to see that I made them work perfectly! Unfortunately, my camera screwed up my colors--here is what it is REALLY like...
Don't you hate it when that happens? It's always my blues that get screwed up...weird. I even use an OTT Lite Bulb in a makeshift lightbox. oh well.
I really like how this card looks--so cute and perfect to send to someone for any reason!