What is it about the
Verve
stamps that always bring my mojo? I don't know what it is but I always seem to pull cards for Verve challenges together faster than most any other--and not just faster, but I always like them more. Weird. But nice! LOL!
This card is a Verve Challenge Combo--it's my entry for Viva la Verve April 2011 Week #1 and it's for Get Your Diva On April 2011.
The layout is the VLV challenge, the colors and accessories are for the GYDO challenge--here was my recipe according to the first letter of my name (L):

Embellishments: Twine, Buttons, Brads
Colors: Turquoise, Pink and Brown
Layers/Shape: 4 layers or Circle Shape
I totally fudged on the layers--I spaced about having to count my sentiment layer--so just pretend you don't see it! ;-) I'm always bad about counting layers anyways...so I'll probably try this recipe again and do it right or switch to a circlular card instead. But I do like this card...a lot!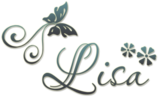 Card Details
Stamps: Blue Skies (Verve)
Ink: Tempting Turquoise (Stampin Up)
Paper: CS-Crumb Cake (SU); DP-My Mind's Eye
Supplies: brads, buttons, twine, Stickles
Tools: Eyelet Circles and Classic Squares LG Nestabilities, Cuttlebug