I received a very unassuming box in the mail this morning...and when I opened it, it still wasn't too exciting...
But when I took the paper out...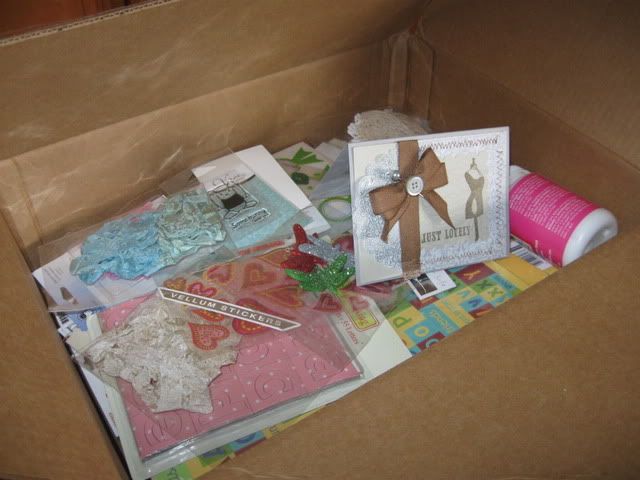 Ooo-la-la!! New toys! This box was filled will all the goodies I won from the Blog Candy that
Kristin
was offering a few weeks ago! Verve Stamps (that I actually DIDN'T HAVE!), BoBunny stickers, Modge Podge (wanted but didn't have!), Bow Easy (so excited!!), ruffled binding ribbon, vellum goodies, a Stamp It Cards magazine and more---What fun! I enjoyed digging through it!
And for more fun, I also snagged some new things at Hobby Lobby yesterday. I finally bought me a pair of the much recommended Tim Holtz Scissors (LOVE THEM!) and some Glossy Accents (love it!). Can't wait to use the scissors when I get my
March Release Rubber
from
Paper Makeup Stamps
(coming soon to my mailbox!! You are going to LOVE this next release!) and you will see my Glossy Accents in action on Sunday!
What new toys do YOU have to play with??