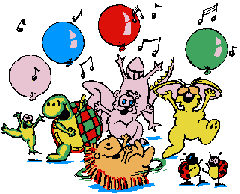 Happy Birthday to Me!
It's hard to believe, but it's finally my 30th birthday! But I'm proud to be heading into my third decade of life! My first 30 years have been fantabulous!
As many of you know, the deadline for my
Birthday Blog Candy Giveaway
is Noon today! If you haven't gotten yourself entered, it's not too late! I am going to extend the deadline to 3pm!!! I am going to be out all morning and won't be home until mid-afternoon anyways...so you can still squeak
your entry
in! I will be announcing the winners and some absolutely fantabulously excting birthday news this evening! You WON'T want to miss it!
I'm skipping Whip-It-Out Wednesday this week, but will have something for you next week. There is just too much exciting stuff going on today!