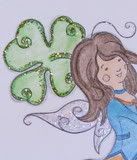 As many of you know, this week has been absolutely amazing in regards to an abundance of good things happening to me or my family. Some would say it's luck (and St. Patrick's Day!), but I like to think it's just an abundance of blessings. Here is a recap of my week...
Saturday/Sunday:
I am honored with a spot on the first ever Paper Makeup Stamps Design Team
Monday:
I win one of the Hanna Stamps Blog Hop drawings.
Tuesday:
We discover that I'm pregnant with #2 after 14 months of trying.
Wednesday:
I put $1 in the pop machine and two Root Beers and $.50 come out.
Thursday:
Super easy school day and beginning of my Spring Break
Friday:
A 100% painless root canal and....
Aha! See there is something else that happened today...but you are going to have to wait for that news! (giggle) So you see, I've had a fabulous week and it begs the question: Is the rest of my year going to be crappy after all this goodness?
Here is a card I made in honor of my great week. This card is my creation for the
Paper Makeup Stamps March Party Challenge #3: A Sketch Challenge
. I have used cute little Chelly with her lucky clover for this card. This particular image is not one that I own, but I have a dear friend Mish, who gladly stamped me some! I have colored her using my first love, my SU! Watercolor pencils. There's just something about the watercolored look that really appeals to me. The patterned paper is from my fave DCWV pad pack that I picked up last summer. I used a couple different colors of Stickles to sparkle this image--Lime on the clover and border of the sentiment and Stardust for the fairy wings. The sentiment on the front and inside of the card was just something I typed up and printed off my computer.
Here is a pic of the inside of the card:
Card Details
Card Size: 4.25 x 5.5 (top-fold)

Image: Chelly (PMS); Ink: Stazon; Medium: W/C Pencils and Blender Pen (SU!); Paper: CS-Olive and Orange (Paper Studio), CS-Blue (From Stash), CS-White (GP), PP-Plaid (DCWV); Misc.: adhesive gems, Stickles (listed above), rectangle punch, scallop circle punch, dimensionals
Make sure you check back on my blog later this evening for my last bit of "lucky" news...