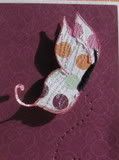 This morning is simply gorgeous! Spring-like with incredible blue skies and light breezes. Not quite warm enough for me, but definitely better then winter weather! Looking outside at the sunshine reminds me that Spring brings butterflies. I just love butterflies. We have an alfalfa field behind our house and during the summer, we like to float in our swimming pool and just watch all the different varieties of butterflies flit and float amoung the fields blossoms. So peaceful and brings God so near.
My card to share today uses the butterfly sentiment and butterfly image from the stamp set
Buggy Sayings
. This stamp set is from the new line
Paper Makeup Stamps
and this sentiment was one of the main reasons I purchased this set. I used the
SCS sketch challenge 214
as my layout. I also broke in some new paper that I purchased at Hobby Lobby earlier this week.
After I check out the galleries of various card making/stamping sites, I always feel like my cards just lack something...Since I don't have an endless choice of supplies, nor do I have the fancy gizmos and gadgets like the Cricut or cuttlebug, I have to try hard to come up with something. So I am really trying to take my cards to new levels by adding die-cuts, extra embellishments or a technique to each one. This card was perfect to use the paper piercing technique for the butterfly path. I also chose to stamp my butterfly on patterned paper instead of cardstock. I've never tried it before, but I love how it looks. The butterfly has been coated with some Doodlebug glitter and outlined with Stickles. The flourish diecuts have also been dabbed with some Stickles and I outlined the sentiment with the same thing. I think you can see the glitter a little better in this second picture.
Card Details
Size: 5" x 7"

Image/Sentiment: "Buggy Sayings" (Paper Makeup Stamps); Ink: "Baroque Burgundy" (Ancient Page); Paper: CS orange sherbert and white (GP), PP "Sweet & Sassy -Bold Stripe, Pink Floral, Polka Dots" (Paper Studio); Misc.: "Stardust" and "Black Diamond" Stickles, "Lily White Glitter" Sugar Coating (Doodlebug), dimensionals, three baubles, flourish diecuts, paper piercer
I'm very glad that the sun is out today. It is so nice to have a cheerful looking day. I had a very rough day yesterday due to another menstrual cycle beginning...and when you have been trying for over a year to have another baby, seeing another cycle start is just super emotionally draining. But I am trying to pull myself together and take some deep breaths. I've also come to realise that maybe God is trying to get me to stop and take the time to work on some issues before our life get's crazy again with a baby. So I'm going to do just that and try to focus my attention on other priorities. We will not stop trying to conceive, but I think we'll just try to push it to the back burner for right now.
Tootles!