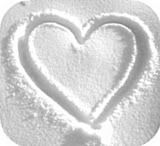 Have you heard about the new online stamp site
Paper Makeup Stamps
? It is a new stamp line created and run by a fellow Splitcoaststamper.com member and the line is adoreable! I found it by accident yesterday and have already ordered a stamp set with a few more in my wishlist! (ooch, don't tell my hubby!) One of the cool things about this company is that they offer all their stamps either mounted on EZ Mount or just the plain red rubber. And their shipping! Wow, it ranks as being some of the cheapest rates I've seen starting at a low $3! Can't beat that with a stick! Would you like to see what stamp set I ordered? I ordered this simply adoreable
Buggy Quotes
set:
Ah yes. It was the last quote that sold me on this set! LOL! I also think this set is extremely versatile when it comes to making cards. This company has an adoreable line of fairies and the cutest little monsters I've ever seen! You seriously need to go check it out. And if you pre-order by February 1st you can take 10% off your order! With the already great prices, you can't go wrong!
If you do happen to go and set up an account, do you think you could use my email for your referral information? Obviously, you don't have to but I promise to love you forever! LOL! Just enter
melissasmelodies@yahoo.com
in the email referral section...
Sigh...seriously, this site will be my downfall cause there are just so many stamps that I love...but what can I say except for "Hi, my name is Lisa and I'm a stamp addict!"