Boy, was I busy yesterday! I was making cards pretty much all day long! Some I love, and some I am not very fond of, but I still had a great time making them!
This little cutie is my entry for the
Dutch Dare Challenge #29
. I decided to pull Charlie out again and really enjoyed coloring him. Like his freckles? Since I have a freckled little boy myself, I'm quite partial to them! I had fun with my markers on this one. I will start posting pics of the markers I used for each card I color, so you can see the shades. Isn't that paper great? I found it at Hobby Lobby this week. I added some sparkle to the snowman and then I did faux stitching with my stitch template.
Here are the colors I used for the image:
Card Details
Size: 5" x 7"
Image: "Charlie Making a Snowman" (WOJ); Ink: "Coal Black" (Ancient Page); Medium: BIC, Prismacolor and Copic Markers; Paper:"Let it snow" and "Coco and Blue Argyle" DSP (Paper Studio), Brown CS (PS), White CS (Georgia Pacific); Misc.: Brown gingham ribbon, "Stardust" Stickles, snowflake charm, adhesive metallic gem
Because I had Charlie out, I went ahead and stamped him again. I really wanted to show how he is soo open for coloring options by using him on a totally different card. To decide on a theme for this card, I pulled out some ribbon. I then colored Charlie to match the ribbon and chose coordinating papers. I was a little unsure as to how he was going to look, but the final result is beyond my expectations. This is card is a double challenge entry. I used the sketch for this week's
Papertake Weekly Sketch Challenge
, and then used the theme for this week's
Whiff of Joy Challenge #12.
The WOJ challenge was to use more contemporary colors on a Christmas themed card. Obviously these are not your normal Red and Green!
My marker colors: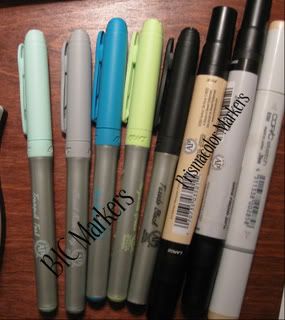 Card Details:
Size: 5" Square
Image/Sentiment: "Charlie Making a Snowman" (WOJ), "Let it Snow" (WalMart); Ink: "Coal Black" (Ancient Page); Medium: BIC, Prismacolor and Copic Markers; Paper: Dark Teal and Lime CS (Paper Studio), DSP from Stash; Misc.: ribbon, "Stardust" Stickles, adhesive metallic gems, snowflake charms
The next cards are just ones that I was fooling around with as I had colored the images. The first one is actually for a one layer challenge, but I really just don't like how it turned out for some reason. The other two are just becuase I was in the mood to craft cards...though I really am partial to the octopus. I found the image online and printed it off. You can find it for yourself
here
. I think I'll use it for a baby card. I'm not going to list the materials for these ones.
Whew! I told you that was a card overload! Thanks for stopping by and I hope you will check out my other new site
Deliciously Simple
which is devoted to my second hobby, Cooking!
I hope you have a great Friday and a fabulous weekend!
Tootles!