Our new Card Challenge of the week in the
Card Making Mamas
group on Cafemom using a technique called
Faux Silk
. It was actually very easy to make and I am very pleased with the results!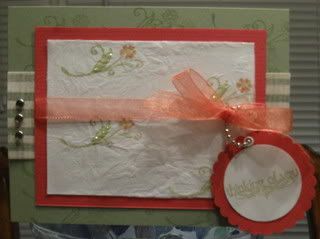 I used a mixture of RAK items including some CTMH organza ribbon that I love! The main image stamp of the flower is from the SU set Smorgasborders (I think) which I stamped in a dark green ink by Anne Griffin. I filled in the flowers on the tissue paper with my watercolor pencils using my blender pen to add a touch of darker color. Once put together I added just a touch of Diamond Stickles to the leaves on the faux silk flowers.
I felt my background cardstock needed something, so I stamped the same flower all over it in the same green and I think it adds a lot! The striped paper came in a RAK from a friend and the green mini gemstone brads are just from Michaels. For my tag I used my 1 5/8" scalloped punch (Marvy) with a 1" circl punch inside and stamped it with a sentiment from a $1 clear pack stamp set. I scraplifted the keychain from some embellishments I had in my stash and added it to the tag with an eyelet.
I just love this little card and really enjoyed learning the technique! If you haven't tried the faux silk yet, you totally should because it is very easy and adds a lot to the look of the card.
Whew, that's it for tonight. My contacts are about ready to fall out of my eyes!
Thought for the night:
Never apologize for showing feeling. When you do so, you apologize for the truth.
~
Benjamin Disraeli